School Library Month
Throughout the month of April, Eldorado PK-8 will be celebrating School Library Month! This is an opportunity to highlight the amazing resources our school library has available to students. Check out the ways we are celebrating on this page!
---
Dav Pilkey on School Libraries
Jason Reynolds on School Libraries
Announcements & Activities
Library Re-opening for Class Checkouts
With the loosening of restrictions and the rollout of the COVID-19 vaccine, the physical library space will be opening again for class visits to check out books! Teachers have been provided a link to schedule weekly visits to the library. WELCOME BACK!

*Please note that students will be limited to two books at a time. Students at or above this limit will not be able to check out new books until others are returned. Thank you for your help.

*Online book reserves will stop after we return from Spring Break. The exception to this is for permanent home learners.
---
Read-a-thon 2021
This year's Read-a-thon event will be taking place during School Library Month! ALL students, PK-8, are invited to participate. Thanks to the generous support and hard work of our PTO, there are TONS of prizes to give away to participants. Visit our Read-a-thon page for details!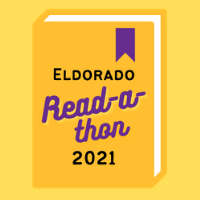 ---
Battle of the Books Competitions
As we near the end of this year's Battle of the Books program, we are celebrating the nearly 60 students who have been working hard for months reading, discussing, and studying their book lists. This month we will be hosting a qualifier test to form grade-level teams that will move on to the district competition. The district competition will take place virtually this year--more details to come. Congrats to EVERYONE who has participated!
---
Special Activities!
Throughout the month Mr. Riesel will be working with classroom teachers to coordinate a variety of fun activities all about celebrating books and our library! These include:
- Interactive Story Walks: Walk through different areas of the school and library, gradually reading a story and participating in activities.
- Book Buffets: Sample a variety of books across different genres with the goal of finding new and exciting books to enjoy!
- Library Trivia: Check out interesting trivia questions all throughout the library. How much do you know about different books, authors, and genres?
- Student Picks Display: Do you have a favorite book that you'd like to share with others? Talk to Mr. Riesel about getting it featured on our Student Picks display!
---
Library Space Updates
There are some exciting changes coming to the library! Students will get a sneak peak during their visits, and the official "launch" will take place in August. The various spaces in the library are being refreshed and reestablished to better support a variety of types of learning. Whether students are building a prototype in The Landing, our new makerspace area, or recording a video or podcast in The Nest, the library will offering engaging resources and programming for all students.
Additionally, students will be able to see the beginning of an overhaul of our nonfiction section! Informational texts will be much easier for students to browse and find what they're interested in.

Stay tuned for more info!